Google officially announced Android 9 Pie – Android P:
The latest Android release is here! And it comes with a lot of built-in artificial intelligence to make your phone smarter, simpler and more adapted to you. Today, Google officially presents Android 9 Pie.
Power of AI – Machine Learning in Android P:
Android 9 takes advantage of the power of machine learning to make your phone smarter, simpler and more adapted to you. Android 9 learns from you and works best for you. From anticipate your next task so you can go directly to the action you want to perform, to prioritize the battery power for the applications you use most, to help you disconnect from your phone at the end of the day, Android 9 adapts to your life and the ways you like to use your phone.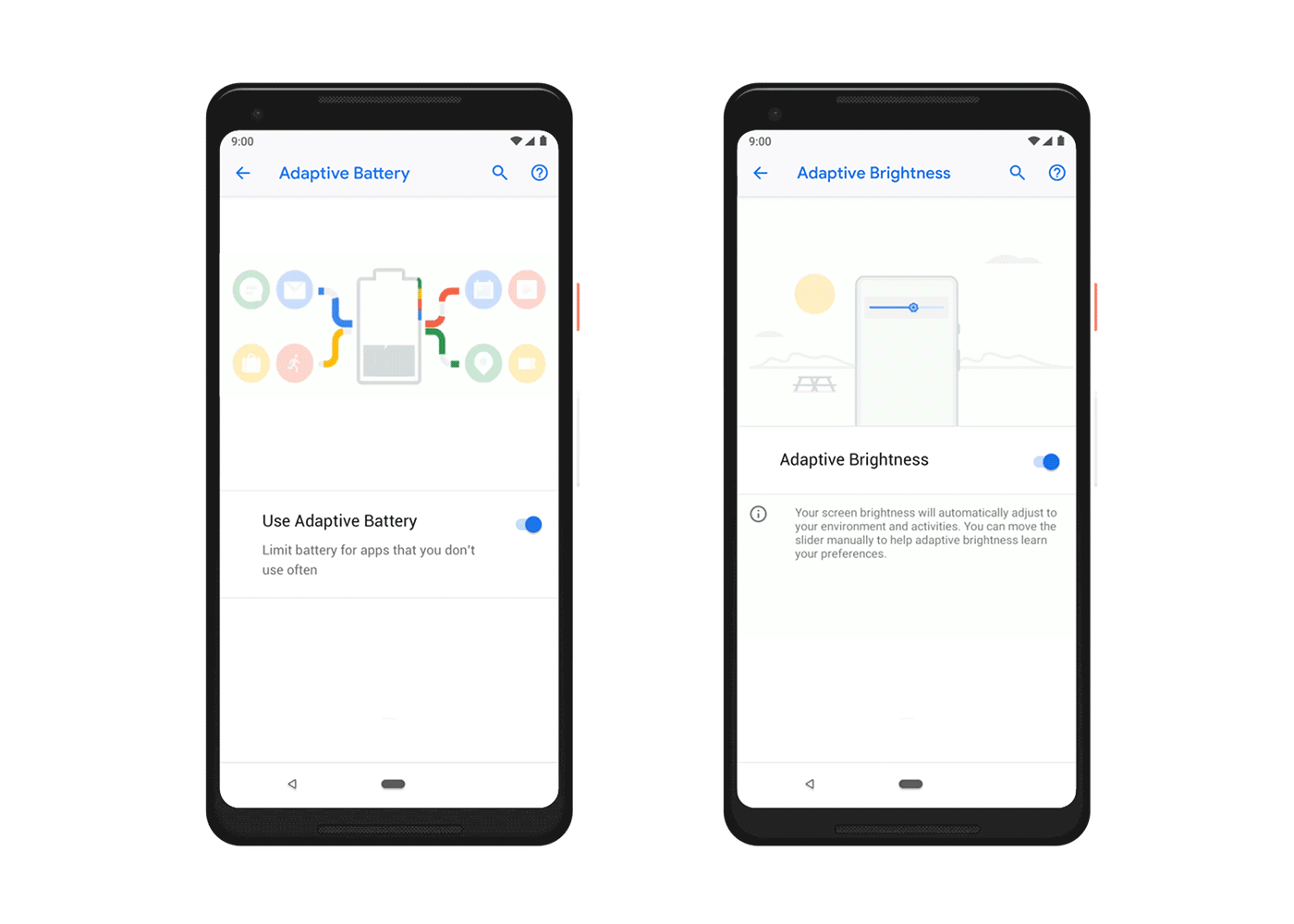 Android 9 aims to make your phone even smarter by learning from you and adapting to your usage patterns. That's why Android 9 comes with features like Adaptive Battery. Adaptive Battery learns how you like to use your phone, so applications and services that you do not use as much are not a battery charge.
Adaptive brightness, which learns how you like to set the brightness in different configurations, and does it for you.
Android 9 also helps you do things faster with the Actions of the application, which predicts what you want to do next depending on your context and shows that act directly on your phone. Say it's Tuesday morning and you're preparing for your daily commute: actions such as navigating to work on Google Maps or resuming an audiobook with Google Play Books will be suggested. And when you put on your headphones after work, you may see options to call your mother or start your favorite Spotify playlist.
Slices can help users perform tasks more quickly by allowing engagement outside of the full-screen application experience. Bring relevant parts of your favorite applications to the surface. The next time you search for Lyft, you can see the prices and ETAs of drivers within their results.
Making your phone smarter and more adaptable is important, but we also want Android to be easier to use and more accessible. In Android 9, we present a new navigation system with a single start button.
This is especially useful as phones grow and it is more difficult to do things on the phone with one hand. With a single clean start button, you can swipe up to see a recently designed overview, the place where, at a glance, you have full-screen previews of your recently used applications.
Swipe up from anywhere to see the full-screen previews of recently used apps and simply tap to jump back to one of them. If you are constantly switching between the applications of your Pixel, we have good news for you: Smart Text Selection (which recognizes the meaning of the text you are selecting and suggests relevant actions) now works in the overview of your recent applications. , which facilitates the performance of the action you want. You can enable this new navigation system in Settings once you have received your update to Android 9 (get more information in the Help Center).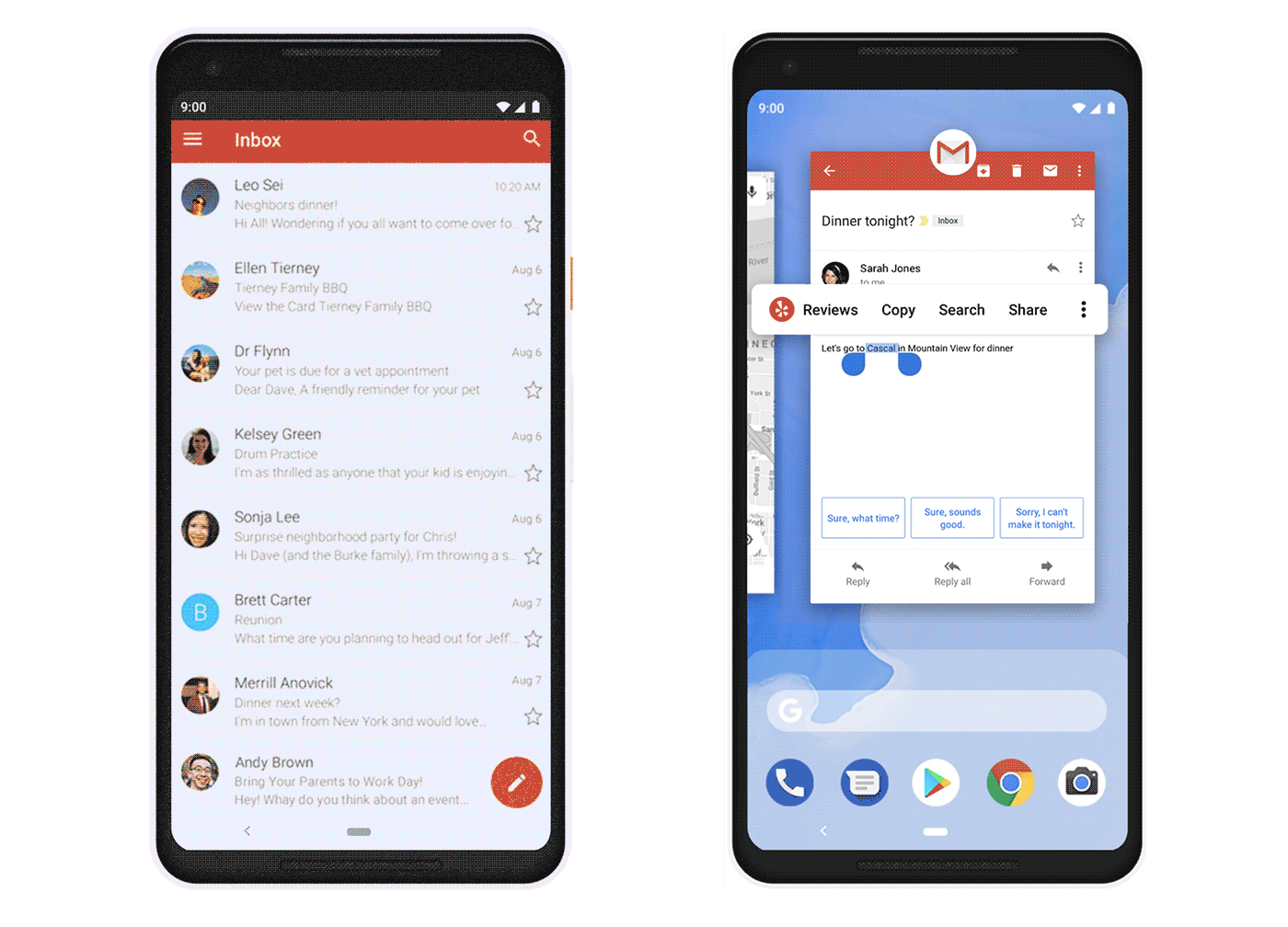 Android P Navigation:
Changing the way you navigate your phone is a big problem, but small changes can also make a big difference. Android P also brings a redesigned quick configuration, a better way to take and edit screenshots (say goodbye to the Vulcan grip that was required before), simplified volume controls, an easier way to manage notifications and more. You will notice small changes like these on the platform so that the things you do all the time are easier than ever.
Find the right balance for your life:
While most of the time we spend on our phones is useful, many of us would like to be able to disconnect more easily and free up time for other things. In fact, more than 70 percent of the people we spoke with in our research said they want more help with this. So we've been working to add key capabilities directly to Android to help people balance with the technology they're looking for.
At Google I / O in May, we previewed some of these digital wellness features for Android, including a new dashboard that helps you understand how your device is spending time on your device; an application timer that allows you to set time limits for applications and dim the icon on the home screen when time runs out; the new Do Not Disturb, which silences all the visual interruptions that appear on your screen; and Wind Down, which lights Night Light and Do Not Disturb and fades the gray-scale screen before going to bed.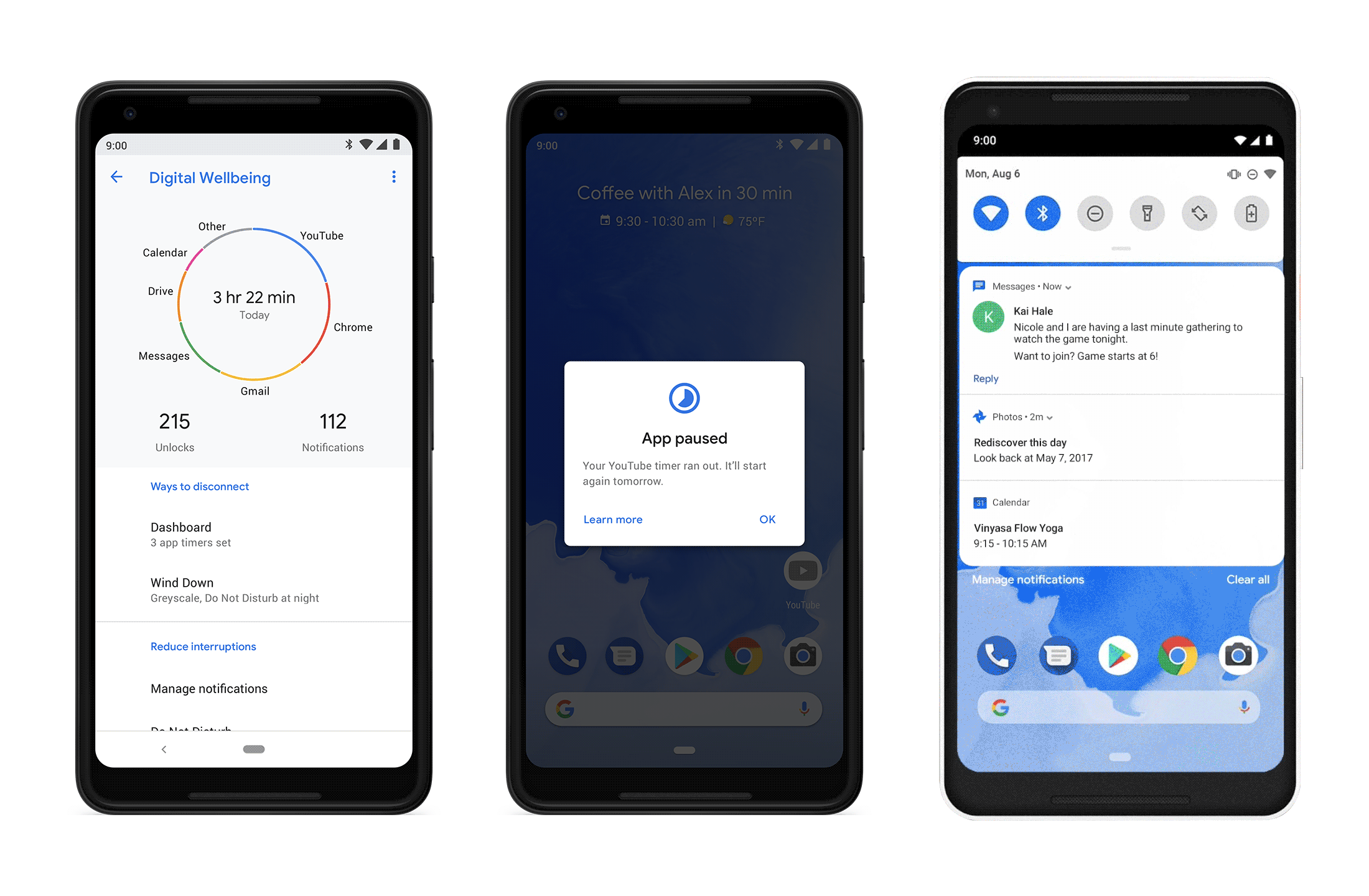 Digital Wellbeing will be officially launched on Pixel phones this fall, with Android One and other devices later this year. But these functions are now available in beta version for Pixel phones with Android 9 to test them.
Security and privacy in Android P:
Improving security is always important in each of the launches of our platform. In addition, to continue reinforcing the platform and an improved security model for biometrics, Android 9 enables industry-leading hardware security capabilities to enable the protection of sensitive data such as credit card information using a secure and dedicated chip. Android 9 also brings important privacy enhancements, such as TLS by default and DNS over TLS to help protect all web communications and keep them private.
Devices receiving Android P:
As of today, a wireless update of Android 9 will begin to be implemented on Pixel phones. And the devices that participated in the Beta program from Sony Mobile, Xiaomi, HMD Global, Oppo, Vivo, OnePlus and Essential, as well as all devices rated Android One, will receive this update later this fall. We are also working with other partners to launch or update devices to Android 9 this year.